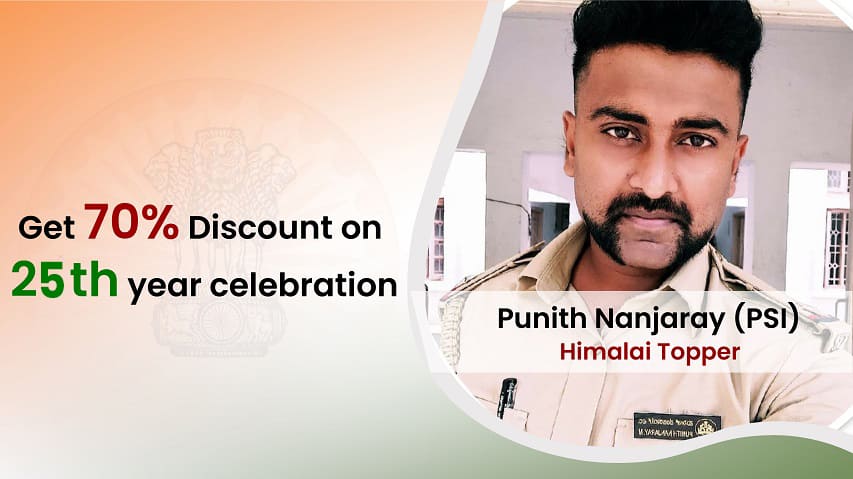 PSI Coaching Center in Bangalore
Graduates who wish to join the police force, PSI or Police Sub-Inspector are the right post to start their career. It is ranked in the police department above an ASI. If you have higher educational qualifications than other low-ranking police officers, you will get your selection done for the post of PSI. An entrance exam, physical, and interview are part of the procedure. Joining the Best PSI coaching center in Bangalore will be the right decision to become a successful candidate. You may find the Best PSI coaching center in Bangalore (Best Police Sub-Inspector). Choosing the right one is vital to be part of a new batch.
Himalai IAS Classes for your PSI exam preparation
For the candidates to appear in the exam of PSI in Karnataka Police, Himalai is the Best PSI coaching Center in Karnataka. You will get regular classes of GK, subjects, and aptitude tests from experienced teachers, subject matter specialists, and senior officers, who have successfully cleared all the stages.
We guide you at every step so that you can prepare yourself to face survival analysis, fitness tests, written tests, and personal interviews. The vacancies are open for both males and females with diverse physical fitness eligibility. You have to join us and start moving towards success.
About Police Sub Inspector (PSI)
Police Sub-inspector ranking is above an Assistant sub-inspector and below the inspector. Candidates, who have high educational qualifications than other low ranking police officers, are directly selected for the post of sub-inspector of police.
PSI exams are conducted by KSPS – Karnataka state police service.
Eligibility Criteria
1. Education Qualification
The candidate must hold a Degree from any of the universities, recognized by the UGC or its equivalent.
2. Age Limit:
Minimum age 21 years and Maximum age 28 years.
FOR DIRECT (FRESHERS) CANDIDATE
FOR IN-SERVICE (POLICE) CANDIDATE
PSI Recruitment Process
1. Survival analysis
2. Fitness test
3. Written test
4. Personal interview
PSI Physical fitness Eligibility
PSI Exam Pattern
PSI Exam Paper 1
PSI Exam Paper 2
Check out the link below to know more about PSI course details offered by the Himalai Best PSI coaching center in Bangalore (Best Police Sub-Inspector)