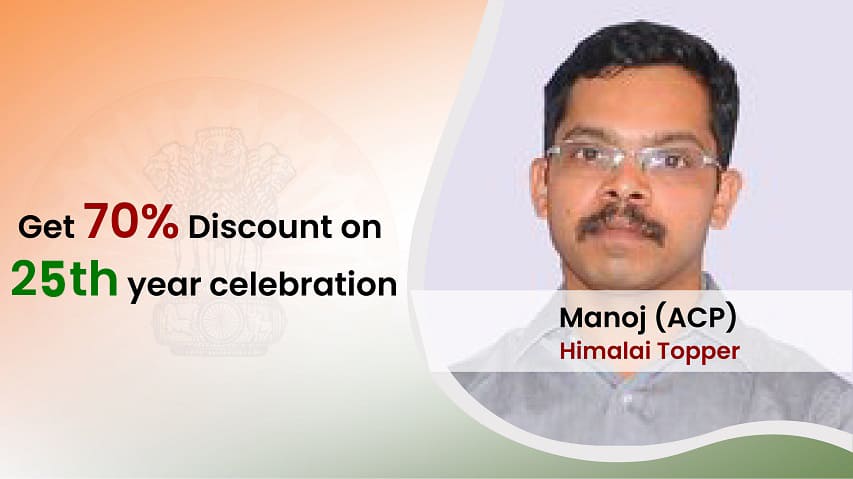 CAPF Coaching for Candidates to Achieve Their Goals
Joining forces through the CAPF exam is an ideal way of serving the nation as officers. CAPF coaching is the first step for candidates who are participating in the CAPF exam.
Central Armed Police Forces or CAPF refers to the uniform nomenclature of the Seven Armed Police Forces of the Union of India under the Authority of the Ministry of Home Affairs. The Government recruits successful candidates to defend the National Interest against Internal Threats.
To become successful, you need to join a reputed institute for CAPF  classes and prepare yourself with the observation and guidance of experts. Himalai IAS Classes is a trusted and reputed coaching offering you updated courses and complete assistance to achieve your goals.
CAPF Coaching in Bangalore – Join Himalai IAS Classes
Searching for the CAPF coaching in Bangalore ends here at Himalai IAS Classes – recognized coaching for UPSC, KAS, CAPF, and other competitive examinations. We have a pool of subject experts, toppers, IAS, and IPS serving as officers. They clear your doubts and guide you step-by-step. Their main motive is to help you achieve your targets and become a successful candidate with your name on merit.
We offer offline classes at our centers, arrange mock interview rounds and run different sessions to help you move in the right direction.
About CAPF- AC Exams
Is equivalent service of IPS cadre, ACP and IPS are Parallel in position and service.
CENTRAL ARMED POLICE FORCES (ASSISTANT COMMANDANTS)
The Central Armed Police Forces (CAPF) refers to the uniform nomenclature of seven security forces in India under the authority of the Ministry of Home Affairs.
1. Central Armed Police Forces (CRPF)
2. Border Security Force (BSF)
3. Indo-Tibetan Border Police (ITBP)
4. Sashastra Seema Bal (SSB)
5. Central Industrial Security Force (CISF)
Roles and Responsibilities Assistant Commandant (AC) – CRPF
AC Officer will lead a company of around 150 armed personnel, which is deployed for conducting elections and maintaining normalcy,
Apart from the original mandates of border guarding and guarding the industrial corridors (CISF).
CRPF is one such force which is directly involved in law and order maintenance and assisting the local administration in maintaining the local order
The Assistant Commandant has to perform functions like planning and conduct of operations, ensuring on the job training to keep the Company in the constant state of operational preparedness for the requirement in any situation,
Organizing independent intelligence network for operational efficiency,
Ensuring efficacy and serviceability of armaments in the Company.
CAPF - ACP Exams Eligibilities
Candidates are considered eligible based on 2 criteria- Age and Academic Qualification. Educational Qualification: Graduates and Undergraduates (pursuing final semester)Note: UPSC will not consider percentage of marks or class nor the discipline of graduation Age Limit, Number of attempts, As per categories, The candidate's age as on 1st August of that year is taken into account. Minimum Age to take the Exam is 20 years and must not have attained the age of 25 years.1. General Merit 25 Years
2. Other Backward Class 28 Years
3. SC/ST and for Government servants 30 Years
4. Ex-Servicemen disabled 5 Years relaxation.
PHYSICAL EFFICIENCY TESTS (PET)
CAPF – ACP Exams Pattern
STAGES OF EXAMINATION
STAGE - 1
STAGE - 2
INTERVIEW - 150 MARKS
Note: For every wrong answer in preliminary examination, 1/3rd of the marks allotted to that question is deducted. (Negative Marking) in Paper 1: General Ability and Intelligence.
After qualifying both the stages of exams one will be eligible any of the CRPF services based on Rank and Preference of the candidate
CAPF Assistant Commandants Syllabus
Paper-I: General Ability and Intelligence (250 Marks)
General Mental Ability: logical reasoning, quantitative aptitude including numerical ability, and data interpretation.
General Science: The questions will be set to test general awareness, scientific temper, comprehension, and appreciation of scientific phenomena of everyday observation including new areas of importance like Information Technology, Biotechnology, Environmental Science.
Current Events of National and International Importance: The questions will test the candidates' awareness of current events of national and international importance in the board areas of culture, music, arts, literature, sports, governance, societal and developmental issues, industry, business, globalisation, and interplay among nations.
Indian Polity and Economy: The questions shall aim to test candidates' knowledge of the Country's political system and the Constitution of India, Social systems and public administration, economic development in India, regional and international security issues and human rights including its indicators.
History of India: The questions will broadly cover the subject in its social and economic aspects of geography pertaining to India and the World.
Indian and World Geography: The questions shall cover the physical, social and economic aspects of geography pertaining to India and the World.
Paper-II: General Studies, Essay and Comprehension (200 marks)
Part‐A – Essay questions which are to be answered in the long narrative form either in Hindi or English for 80 Marks.
The indicative topics are modern Indian history especially of the freedom struggle, geography, polity and economy, knowledge of security and human rights issues, and analytical ability.
Part‐B – Comprehension, précis writing, other communications/language skills – to be attempted in English only (Marks 120) –
The topics are Comprehension passages, précis writing, developing counter arguments, simple grammar and other aspects of language testing.
Check out the link below to know about capf coaching course.