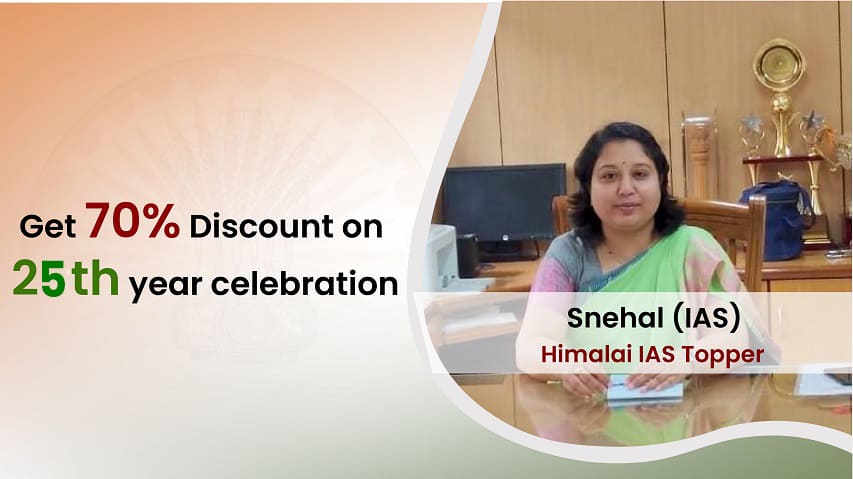 Trying to clear IAS Exam? Join Himalai, Best IAS Coaching in Bangalore
Best IAS Coaching in Bangalore For candidates who need to become an Indian Administrative Officer (IAS)? All you need to do is to start preparation as soon as possible to let your ultimate dream be fulfilled. Throughout the preparation, you need to have proper guidance from experts who will help you at every stage by providing appropriate solutions and making your preparation more result-oriented. So, your first task is to find the top IAS coaching in Bangalore that has a good track record and helped many candidates in fulfilling their dream of becoming an IAS officer.
Bangalore houses many top-rated IAS coaching centers that are popular across the country for helping candidates in making their preparation more effective. You will not face any difficulty when it comes to finding the best institute for your IAS preparation. The 'Silicon City' of India is also a hub for competitive exam preparation and thus a dream destination for all those who are keen to become civil servants. Every year a large number of students flock to the city with their dream of becoming an IAS officer and they grab opportunities to join the Best IAS coaching in Bangalore to take their preparation to the next level.
Himalai IAS is the Leading IAS Coaching in Bangalore
Himalai IAS, one of the well-known IAS & KAS coaching institute in Bangalore, welcomes all those students who come to the city for the preparation of civil services. Since 1998, we have been offering coaching classes for IAS preparation and helped many aspirants in shaping up their careers in civil services. We are committed to providing quality education to make civil service preparation more effective and help students easily clear the examination.
Starting with a limited number of faculties, we are now a leader in the same industry after spending 25 years with an outstanding success ratio. Be it a preliminary, main, or personal interview, our experts help students in preparing most effectively and crack the exam easily.  As one of the reputed IAS coaching institutes in Bangalore, we offer numerous courses for students who prepare for the IAS examination. At Himalai IAS, we have the highest number of successful candidates who compete in the IAS examination and make us proud.
Since our foundation, our main aim has been to provide world-class training for IAS and other civil services competitions. The majority of our faculty members are IAS professionals who have a great passion for teaching and helping candidates in becoming successful in their mission. Our experts teach you the best technique to streamline your preparation and secure your position in the examination. We create all the training programs by keeping students' concerns in mind and helping them get the most benefit from them. Our experts endeavor to offer the right guidance to all candidates who approach us for IAS preparation. We, one of the IAS coaching institutes in Bangalore, spend enough time preparing well-researched and fully organized study materials that make preparation easy and more interesting. Joining us for IAS preparation is the first step to success.
What Distinguishes Himalai IAS from Other IAS Coaching in Bangalore
Great Infrastructure
Apart from offering world-class training for IAS preparation, we at Himalai IAS offer high-class infrastructure, and a well-organized and maintained classroom. It improves students' experience and encourages them to do preparation in a better way.
Audio Visual Facility
We as reputed IAS coaching in Bangalore also utilize the power of modern technologies to make coaching classes more interesting. Be it a projector, large size screen, or other equipment, our coaching class includes everything to excite you.
Limited Batch Size
We at Himalai are committed to giving attention to every student who joins our coaching center. So, we always have a small batch size that consists of a limited number of students. It makes it easy for our faculty when it comes to one-to-one interaction.
Regular Test Series
Test series is a better way to evaluate how your preparation is going. We at Himalai IAS understand the thing in a better way and conduct a regular test series based on the recent patterns of the IAS exam.
Study Materials
We endeavor to make your IAS preparation easy and in the right direction, even though it's tough. We provide study materials for all subjects to our students. Our experts prepare these study materials based on the latest patterns and also previous year's questions.  
Why We are the Best IAS Academy in Bangalore
We are the most trusted IAS academy in Bangalore and have helped millions of aspirants in achieving their career goals. Students choose us for IAS preparation for various reasons.
Classes Conducted by IAS Toppers
At Himalai IAS, we have a group of IAS toppers. We endeavor to let you get the best guidance from our genius faculty members for your IAS preparation. They boost your confidence and improve your chance to get selected for the IAS exam. 
Personalized Training
We have a better understanding of the student's needs and match the same by offering them personalized training. Our personalized training programs aim to give you an excellent chance to get personal attention from faculty and solve your problems. 
Online/Offline Classes
We conduct both online/offline classes to serve the core needs of students. Whether you wish to join offline/online classes, our professionals provide equal attention for both. We endeavor to get maximum benefits from our experience irrespective of the classes you opt for.
2000+ Selection in Elite Services
We are proud to have a maximum selection of students in IAS and other PCS exams. We put continuous effort to increase the number of successful students and help them in achieving their dream career goals.
Dedicated Faculty Member for Every Student
As our commitment to give equal attention to every student to understand their weakness and strength, we have dedicated faculty members. Our faculty member spends enough time with every student to understand the problem they face and provide the best solutions.
Access all Available Facilities Without any Hidden Cost
We encourage students to avail all facilities be it study materials, face-to-face interaction with faculty, or others. And the most interesting thing is students don't need to pay the additional cost for any facilities that they avail.
25 Years of Experience
With 25 years of experience, we at Himalai IAS have become a one-stop destination for all those who are interested in IAS preparation. Our faculty members are versed with the changing and the current pattern of the IAS exam and teach students accordingly.
Frequently Asked Questions