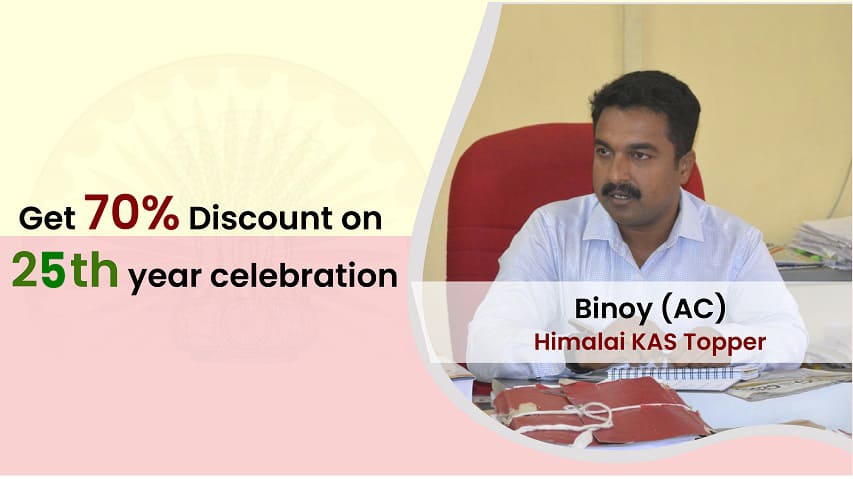 Himalai for Success
Guided Individual plan
Get everything you need to reach your dream position.
Tell us what you want to achieve for your Dream position KAS, so we can build you an individualised customised Exam preparation plan and a personalised training tips, guidance, classes and resources for every step of the way.
Customised Exam preparation experience
Make corrections as you go.
Track new goals, correct your exam preparation and follow topic wise as your preparation progress.
Easy access
Quickly get to what matters most.
Get anything you want to revisit, and easily connect with mentors and content most important to you.
One-stop Preparation
Track goals for as many times as you'd like.
You can track goals and see progress for each subject or many, and share your concern on Exam preparation, access to mentors at any time.
Get individual Preparation today.
Individual preparation includes Specific student wise Planner, Simplified Materias, Test series, Assignments.
KAS Prelims
Classes are moulded around KPSC syllabus

Flexible Learning -Synchronised  Online classes and classroom training or both available as preferred by students 

Classes are taken by Himalai alumni IAS, KAS. who are serving officers now and Subject Experts

Enjoy the Benefit of Life Time Validity

Access to 25 years of Rich resources.

All general studies will be taught on subject wise, topic wise and chapter wise

Individual based special classes will be additional to the students along with ongoing classes

Every students preparations are individually monitored by the mentors everyday

Simplified Summary Based study materials

–

Exam oriented Simple summary based study materials for all the subjects for quick recap of the concepts both in Hardcopies and Online.

Test Series and Quizzes  – Test are conducted regularly both on Online and Offline Daily, Weekly and Monthly on Current affairs, subject wise, topic wise and chapter wise.  

Current Affairs – Exclusive classes, materials, quizzes and periodicals for Current Affairs on Monthly, weekly and daily  

All are well specialized on Exams standard

State and National Affair

International Affairs

Contemporary issues specific to Socio economical India

Special focus on Editorials

Government of India Events and schemes

International Organization etc.

Economic survey of India.
Three Rounds of Revision classes
KAS Mains Course Details
Full fledged online and offline classes for GS 1, 2, 3 Ethics, Essay

100 Written test series Each with Writing practice.

Real time preparatory exams

Classes and training by Cleared candidates and subject experts

Exclusive access and part of the team who has cleared exams recently

Synopsis of Question and answers

–  Soon after the completion of every Test a gist's of Explanation will be provided for better understand and clarity on concepts

Writing Practice –

  Writing practice will be provided as per the syllabus standards of KPSC KAS Mains for GS 1, GS 2 GS 3 Essay and Ethics integrality classes and Evaluations during Mains preparation classes for
1. Quick recap,
2. Easy understanding and
3. Subject and concept clarity
4. Time Management
5. Increasing the speed of writing
6. Answering skills
7.Comprehensive development
Performance and analysis – Individual performance will be analysed by the evaluation of answers scripts written by the students and special classes are conducted based on the Performance and analysis

Internal Relations and Indian society – counselor

24/7 library and Support, inhouse stay, With direct access to 24 years of Expertise and facilities.
KAS Interview
100 mock interviews.

Exclusive training at Bangalore in house.

Training by cleared candidates and experts.

Special guidelines in DAF filling.

In person personalized monitoring during interview training till joining the service.

Special guidance on Interpersonality communication skills

Personality development training on individual presentations
Access to 24 years of rich resources.
One on one Discussion

Live Discussion, Live Classes

Classroom Training

Recorded classes

Revision Classes

Materials

Test Series

Preparatory Exams

Mock interviews

Free Counseling and support for other Exams

Government jobs career Guidance.
Facilities:
Reading Rooms

Library

Access to mentors officers

24/7 facilities

Modern facilities in house Stay facilities for Mains and Interview Students.
Sources for Classes, Materials, Test series, preparatory Exams, Assignments:
Karnataka state Education board

NCRT Books

Standard Text books

Previous year cleared candidate's materials

In house Mentors materials

Government Karnataka and India Documents

Government Karnataka and India periodicals

News reports Karnataka, India, International, Neutral bodies.

India Year Book

Karnataka Year book

NGO

Recognised individual organisations publications.

KSPC Public Documents and Periodicals
Classes Type:
Online 

Classroom Training
Batches:
Regular classes:  Daily.

Weekend Classes:  Saturday and Sunday 

Duration of complete classes 1500-2500 hours,

Crash Course: 250 Hrs of classes
Branches:
12 Centers around Bangalore and Delhi.

Rajajinagar, Chandralayout, Malleshwaram, RT Nagar, Sahakarnagar, Kalyannagar, Marathahalli, Indiranagar, Koramangala, Jayanagar, Jp Nagar, Basavanagudi.